5 Best Mobile Phones With Projector You Can Buy
The main objective of any technology is to make our lives easier, by making useful stuff portable & accessible to everyone. That is the reason we see mobile technologies develop so rapidly. One purpose of projector technology is to bring in portability for display; therefore, these projector phones or projector mobiles are in demand.
Apart from looking cool, these android mobile phones with projectors make things easier for someone who meets a lot of people for work, travel, watching Netflix with friends, or likes showing off. The basic purpose is definitely to project your display to the audience.
The biggest advantage of these types of smartphones is portability, as in 2019 we have add-ons and portable mobile projectors that work with your regular smartphone. There is just one disadvantage to owning one of these pieces of tech, these devices are quite bulky and won't sport a slim form factor, or at least in today's times.
We could expect that disadvantage to going away as new tech emerges. Grab a coffee and browse through the below list.
Here are the 5 Best Mobile Phones with Projectors
The two devices were announced in San Francisco at TechWorld, these phones do not have a built-in projector but they support Moto mods™.
Moto mods™ allow you to transform your Moto Z into a movie projector, battery beast, or a boombox. Both have 16 pins on the back that allow these mods to be attached to the back of the phone.
These are the first devices by Motorola to have Moto mods™.
Motorola's SVP of software engineering Seang Chay said:
Moto mods instantly transform your Smartphone into an entirely new device.
These devices sport a Snapdragon 820 processor, a 5.5-inch QuadHD AMOLED display, microSD slots, fingerprint scanners, fast charging, etc.
Moto Z is made of aluminum and stainless steel and is very thin, while the Moto Z Force has a shatter-proof display. The Moto Z Force has a 3500 mAh battery compared to the 2600 mAh battery of the Moto Z. The Force droid edition also has a 21-megapixel camera compared to the Moto Z's 13mp rear camera. Both of these devices run on Android and are available to purchase globally. You can buy it on Amazon.
2. MOVI
MOVI from WMS is a Smartphone with a built-in projector. It aims to re-invent the bulky smartphone projectors we had in the past through its embedded High Definition (HD) 720p DLP LED Pico projector.
The phone boasts the Qualcomm 821 Snapdragon chipset for powerful performance and works on most 4G GSM networks.
The device consists of 4 GB ram, 64 GB of storage, and a 16 MP rear camera. It also includes a fingerprint scanner and the latest Android version, Android 7.0.
Guess what? the device supports Qualcomm quick charge technology with a battery capacity of 5000 mAh, which should be sufficient for the entire day. This beast might actually be a legit alternative that'll surprise us, who knows?
MOVI claims it to be one of the most feature-rich smartphone in the market on their official website.
MOVI is available to pre-order from March 2017 on its website. Mark your calendars!
3. Lenovo Smart Cast Laser Project
Smart Cast, is the world's first Smartphone with an integrated focus-free laser projector. The phone features a hardware button that initiates the Smart Cast. Once pressed, you get to see every app that can work with the Smart Cast.
It has an inbuilt infrared light sensor, that tracks movements which will enable users to make any surface a touch screen.
Lenovo has developed about 10 basic apps like email, browser, video player, calculator, etc. that work with the Smart Cast.
The phone must be in a dark light for its projector to work. The phone looks futuristic, is a beast and we're really looking forward to how it develops in the coming future.
4. Akyumen Holofone & Falcon Tablet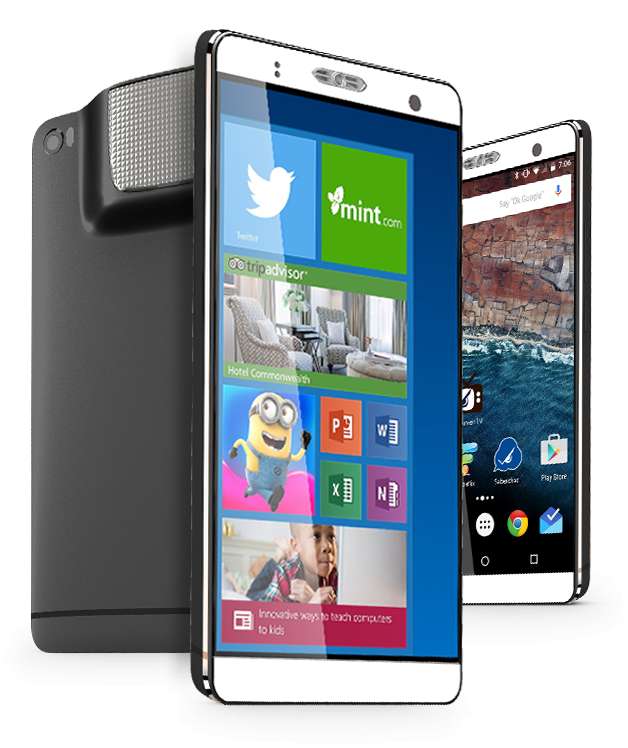 Akyumen has launched its first three devices which include a 10.1-inch Windows tablet, a 5.5-inch android phone, and a 7-inch phablet that can run both operating systems.
The Holofone Phablet is a 7-inch Windows 10 tablet with an Intel Atom x5-Z8300 Cherry Trail processor, 4GB of RAM, 128GB of storage, a 3500 mAh battery, and a 35-lumen projector for casting your presentations on screen.
However, the Falcon projector tablet has a 10.1-inch screen and almost has the same features with a larger screen, a 40-lumen projector, and a 6000 mAh battery.
Unlike the Holofone, the Falcon tablet does not have cellular capabilities.
You can pre-order them from their official website.
5. Samsung Galaxy Beam 2
Samsung Galaxy Beam 2  was launched in April 2014. The specs are not quite powerful, It has a 4.66-inch touchscreen display with a resolution of 480 pixels by 800 pixels. The phone runs on a 1.2 GHz quad-core processor.
The camera on Samsung Galaxy Beam 2 is a 5-megapixel shooter on the rear and a 0.3-megapixel front camera for selfies. It runs on Android 4.2 (jellybean) and consists of a 2600 mAh non-removable battery.
As said earlier, it is an average smartphone, but it hyped up the smartphone industry back in 2014. Learn more about it here.
Bonus 1!
Sony Pico MPCLA Mobile Projector
This is the device that I was talking about earlier, Sony Pico MP CLA isn't mobile with a projector but a portable solution that'll help you to project any smartphone you have. MPCLA is an updated version of the MPCL1 version.
The Sony Pico MPCLA mobile phone is laser-powered and will appeal to folks who are looking for a projector that has a small form factor.
It has a resolution of 1920×720 pixels with an aspect ratio of 16:9 which is really good comparing it to other alternatives.
The highlight of this portable projector is that it is skinny and significantly lightweight (Approx. 7.4 oz or 210 g).
It recharges from a standard USB, or optional power brick, and runs up to about 2 hours on a charge.
It is focus-free, which allows your movies or media to appear in focus even when projected on curved or uneven surfaces.
Other specs include support for HDMI/MHL connectors, Bluetooth, headphones/speaker jack & WiFi connection to help you mirror screens flawlessly.
This projector has a Laser light engine and wireless capability built in which makes it a complete pocket-sized HD mobile projector. You can buy it from Amazon here.
Bonus 2!
Here's Wikipedia's list. You can have a look to know all about such phones.
Conclusion
Concluding the list, we're really excited about the MOVI smartphone, as it promises a lot of cool stuff, and we're waiting to cover more in-depth articles on it as things uncover.
So that's it, these were our picks for the best mobile phones with a projector.
Do you think having projectors on mobile is a useful feature or is it just another marketing gimmick? As it's quite true that we don't see as many such phones. Would you buy something like this in the near future and also use it? Share your views below in the comments.