9 Best Pocket-Friendly Laptop Cooling Pads to Buy in 2023
A lot of damage occurs to your laptop if it overheats for a long time. Moreover, nothing is more irritating than a device that malfunctions just days after buying. That's how severe it gets if nothing is done to solve your problems. So, is there a solution?
The answer is pretty much direct. Buy a laptop cooling pad! A laptop cooling pad is a device that lowers the temperature of your device to an all-time minimum even if you use it extensively for gaming, watching videos, or whatever you're doing. However, before you go out looking for it, there are certain things you need to know.
How to find a perfect laptop cooling pad for yourself?
The best laptop cooling pad is always lightweight, and portable and will show durability even for large devices. Two things are considered here. First, plastic laptop coolers are compact but not as durable as metal ones. Second, metal designs are more cumbersome. Therefore, don't need to move around
Since you expect to be doing a lot of movement, it is essential to check whether it is foldable enough to fit into your backpack. If possible, check for cooling pads that are smaller, more durable, and portable
It should ideally suit your laptop size. You shouldn't be wired to only think about the weight alone. There are as many laptop cooling pads as there are laptop sizes, so there is something for everyone
Remember, if it fits your budget, the better. Apparently, plastic laptop coolers are less expensive and go without saying durability.  Metal coolers are slightly expensive, but if you wish to spend extra bucks, it's all up to you
Choose a cooling pad with efficient fans. There are many designs, some having a combination of large and small fans or only small fans scattered within the device. Nonetheless, the size of the fan shouldn't be the guide to seeking durability
Buy a cooling pad that is manufactured to increase airflow. Most pads expose the bottom of your laptop which is a crucial feature to look
Here's a list of the best laptop cooling pads for gaming or general use
1. HAVIT HV-F2056
There is a substantial reason why this is among the best and is also durable as a gaming cooling pad just looking at the specifications. The overall design gives it compatibility for laptops between 15.6 to 17 inches, a midpoint range for most laptop manufacturers.
The fans are compelling, and you won't have to pause a game as you wait for your device to cool.
Additionally, it has excellent durability with a superb metal mesh finish and strengthened plastic. It holds your laptop in place very well with the anti-skid structures put in place.
Pros
Extremely lightweight and portable, and can be used on many surfaces
Noise-free fans to have a quiet environment as you use your laptop
It is super silent and requires minimal energy to run
Cons
It is impossible to turn off the LED light, and the beeping sound it produces might get irritating so long as it still is connected to the power
It has a limited range of angle adjustments (2) although it is very comfortable to use
Cannot adjust the wind speed
2. TopMate 12-15.6 inch Gaming Laptop Cooling Pad
TopMate laptop cooler is designed for office use or intensive gaming and suits laptops ranging from 12 to 15.6 inches. It is quite easy to operate by using the inbuilt LCD to manipulate the wind speed so that heat is adjusted to optimum efficacy.
Within the device are five ultra-strong fans that are great with heat control, and release less noise (four small outer fans and a huge center fan). LED lights turn on automatically once the cooling pad is plugged in and give a beautiful display so long as power is running.
The cooling pad is adjustable to five different positions and angles and is a great cooling pad for MacBook, Lenovo, Asus, HP, etc.
Pros
A wide range of angle adjustment
Straightforward wind speed adjustment to get what you like. The device has an LCD and buttons which easily allow you to modify how the laptop cooling pad operates
The hinged flaps hold the laptop firmly on the surface without sliding downwards
The fans can be adjusted to operate at six different speeds
Cons
It is only suitable for smaller laptop sizes
2500 RPM is still a little bit average for the price range when some go as far as 5000 RPM
3. Kootek Laptop Cooling Pad and Mat
Made for laptops measuring between 12 to 17 inches, this is the best gaming cooling pad from Kootek. It comprises five efficient fans which have less noise at full throttle, an LED light display that turns on when connected to power, and an on/off switch which takes care of LED lights and adjusting wind speed. Additionally, it is lightweight, and with more than two adjustable angles, it is a must-have.
Pros
Adjustable and comfortable heights to a maximum of 6 positions to suit the posture you use when playing games or watching movies
Dual stoppers on the anterior so that the laptop doesn't slide off the cooling pad's surface
Multiple USB ports if you need to use more USB devices
Cons
In-ability to adjust wind speed does not give the user maximum control over the device
The plastic frame might reduce in strength after prolonged use
4. TeckNet Portable – Slim, and Quiet Cooling Pad
This cooling pad has three powerful fans rotating at about 1200 RPM to suck out air from the laptop and prevent it from overheating. Even if you use your computer for applications and games requiring more processors to work overtime or HD movies, no heat change is detected.
The three 110mm fans are powered by USB and don't require an external power source other than the laptop.
On the cooling pad, there are two extra USB ports for additional USB devices and LED light that shows if the pad is operational.
Pros
It is compatible with different laptop sizes; from 12 to 17 inches
TeckNeck fans are silent and easy to use
Easy to adjust heights to suit different positions and better use, plus rubber grips which prevent the laptop from slipping
Cons
Does not hold all laptop sizes efficiently as it does others on the surface and some skid off the top
Although it is impressively efficient, 1200RPM is not good enough for non-stop gaming
5. ThreeLeaf T102 10-15.6″ Office Laptop Cooling Pad
The ThreeLeaf T102 office cooling pad is made explicitly for laptops with dimensions between 10 inches up to 15.6 inches.
It turns on automatically once the USB power cable is connected to a source of power. The USB connections are specially adapted to be compatible with any USB ports on your laptop since they are found on both sides of the cooling pad.
Additionally, it's made of heavy-duty and weightless plastic and is easy to carry around and made of sturdy material which should be used long enough. Moreover, the metal mesh surface is efficient in heat dissipation and made with stops that firmly hold the laptop on the surface.
Pros
Easy to adjust the wind speed and operates longer
The ergonomic wrist pad provides comfort as you work the keyboard, and the tilted surface offers a better typing angle
The cooling pad is equipped with six fans that ensure your laptop never overheats. Additionally, they have minimal sounds and only release a faint buzz compared to other competing brands. The fans spin at around 5000 RPM, and that's just off the charts
Cons
No LED light on/off control button even after the laptop is turned off unless it is unplugged
Slippery surface that makes the laptop skid most of the times
6. HAVIT (HV-F2068) for 14-17 Inch Laptops
The fans operate smoothly and quietly with beautiful LED lights which indicates that the cooling pad is operational. Also, five operational fans ensure maximum heat loss for compatible laptop sizes between 14 to 17 inches.
With an ergonomic and adjustable mount, you can stand your cooling pad in different positions so that you get your favorite one for playing games or watching. It has multiple USB ports to connect USB devices such as a mouse. However, it cannot sustain devices that consume more energy such as hard drives.
It is highly efficient since it has a quality metal mesh that is very active for heat dissipation.
Pros
A larger enough stop keeps the laptop on the surface
Has modifications to allow extra USB devices
Cons
The USB ports are functional. However, they cannot power devices that require more power to operate including hard drives
7. Aicheson Laptop Cooling Pad
The Aicheson Laptop Cooling Pad is suitable for many laptop sizes between 10 to 16 inches. The main components of the cooling pad are four ultra-silent fans for heat regulation, LED lights that turn on when the device is connected, and an LCD to show data and allow moderation of wind speeds.
The overall design is classy and with a combination of metal mesh and plastic mount frames for extra support. In addition to that, no power adapter is used because the cooling pad has a 5V DC USB port.
Pros
No additional information is required when regulating how fast the fans spin
Cons
There aren't any mechanisms in place to prevent your laptop from sliding off the surface
The fans are not super-silent as expected, and the sound gets irritating unless there is something louder to drown the emission
The bottom is flexible and if placed on an uneven surface might get into contact with the fan preventing them from spinning. It gets somewhat irritating because the plastic is fragile and fear of breakage is evident.
8. HAVIT HV-F2063A
With four ultra-quiet 110 mm fans and beautiful LED light, this Havit cooling pad is optimized for heat control in laptops ranging from 14 to 17 inches. Something to note is that when the LED light increases in intensity, the fans rotate faster. This also means that there are mechanisms in place to regulate the speed at which fans move.
The ergonomic design works perfectly for watching movies and running games without the risk of heating its components. The support surface is customized with two mats to prevent skidding or the laptop moving out of place.
It is slim and portable, making it easy to carry wherever you go as well as being durable.
Pros
It has two anti-slip mats which are effective in regulating laptop skidding
Has an extra USB port to connect additional USB devices
Speed control for the fans by a switch adjusting their speed of rotation so that you choose how you want the laptop cooled. There are four fans for efficient heat control
Cons
The anti-skid mats are not enough in keeping your laptop at one spot as it has no stops
Works excellent when used on a table but gets uncomfortable when placed on your laps
At this rate, the manufacturer should have done better than 1100 RPM
9. TeckNet Laptop Cooling Pad Stand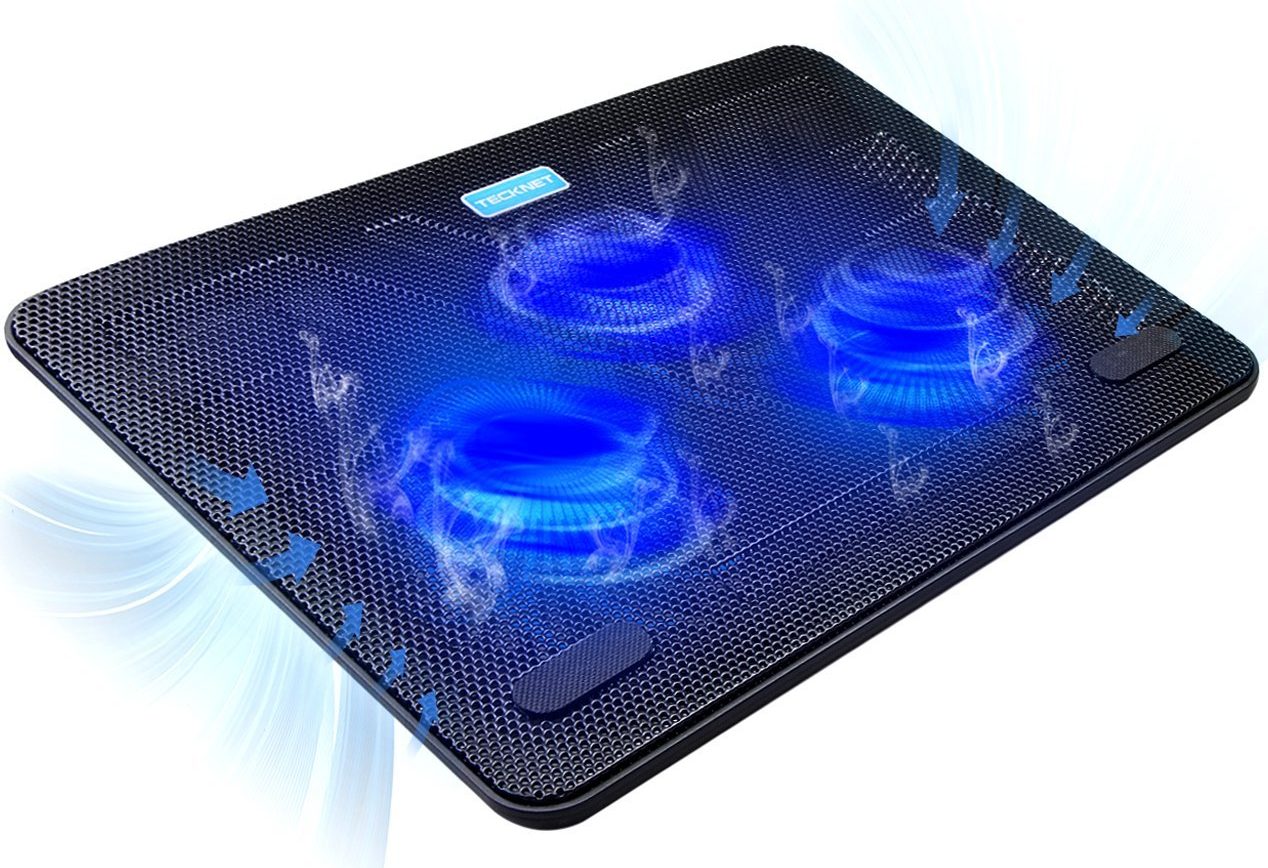 Excellent airflow through the mesh surface keeps your laptop heat levels in check even after long hours of playing and watching. Most laptop coolers have no on/off switched to regulate heat as the user wishes, but this one does. You can adjust the fans to different wind speeds so that you have total control over the device.
The cooling pad is slim, lightweight, and easy to carry wherever you go with LED indicators which turn on as soon as the cooling pad connects to your laptop
The range of laptops that are compatible with it should be approximately 12 to 16 inches.
Pros
Minimal sound is released when in use
The height is adjustable so that you place your laptop in any position you see fit
Conclusion: This ends our laptop cooling pad reviews.
To help you know the right device for you, always have in mind what you will use it for. For instance, there is no need to get one if you only use your laptop for a few minutes. However, if you notice your computer starts getting slow and too hot to touch then a cooling pad will solve most problems.
The laptop cooling pads should fall within your budget while also proving durable for extensive use.